03.06.2019
On May 31, 2019, the AEB Intellectual Property Committee held its annual open event "Intellectual Property Rights: recent trends, court practices, problems and solutions" at the Delegation of the European Union to Russia.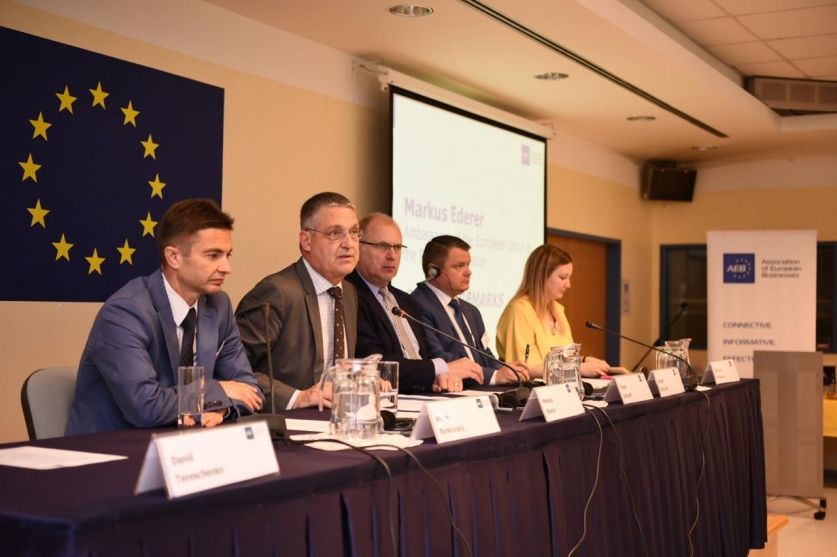 The conference was dedicated to the key issues in the sphere of intellectual property in Russia, including the overview of legislation improvements, established practices in applying regulatory acts, court practices and much more detailed information and analysis provided by high profile speakers from Rospatent, FAS of Russia, IPR Court and lawyers from major European companies and law firms (DLA Piper, Dentons Europe, Baker McKenzie, Bryan Cave Leighton Paisner (Russia), BEITEN BURKHARDT Moscow, CMS Russia, AstraZeneca).
The conference was opened by H.E. Markus Ederer, Ambassador of the European Union to the Russian Federation and Frank Schauff, AEB CEO.
Current approaches to the licensing inclusion and other similar payments in the customs value of imported goods, DLA Piper.pdf

View/Open
Disputes related to infringement of intellectual property rights on the Internet, Dentons Europe.pdf

View/Open
Intellectual Property in online-games, Beiten Burkhardt.pdf

View/Open
Legal issues of digital-advertisement SMM, targeting, search engine advertising, BCLP (Russia).pdf

View/Open
Intellectual property rights in new media, Baker McKenzie.pdf

View/Open
Law-making initiatives in Rospatent as a way to form a system of providing state services in the field of intellectual property D. Tereschenko.pdf

View/Open
Use of someone else's intellectual property without the consent of the right holder and new regulatory initiatives on this issue, AstraZeneca.pdf

View/Open
Review of important clarifications of the new Resolution of the Plenum of the Supreme Court on intellectual property, CMS Legal.pdf

View/Open